Scale modelling is changing
Remember the days when you went to the hobby shop and purchased the model you liked best from what was in stock?  Or mail ordered whatever you could get with your fingers crossed?  The Internet changed a lot of that, and now technology is offering even more choice.
Model what you want – not what you can get
If making a kit out of the box is where you get your kicks then this page may not be for you.  If, however, you like to build your own unique scale models and find your projects are hung up for want of parts, figures or details  – this is where we can help. We also help small manufacturers to produce parts they may not have the in house facilities to produce.
The examples featured here are all bespoke commissions.  Some, with permission, have found their way into our catalogue. Although many of the examples below are in 1:64 there is no restriction to the scale that can be produced.
If you have a project that we can help over the hump, please get in touch.
3D printed parts
3D printed detail parts with resolution down to 25 micron (1/40th mm).
Tricky parts
A variety of approaches to produce the desired result.
Techniques
Etch - 3D Print - Cast - Fabricate
We can work with your stls, 2D CAD, original blueprints or dimensioned photos/sketches to produce models or detail parts in a range of media.
Parts can be produced using:
Photoetching of stainless steel, brass, nickel silver, phosphor bronze.
Lost wax casting in silicon bronze ('brass') from traditional patterns/waxes
Lost wax casting in silicon bronze ('brass') from resin printed patterns (no moulding allowing complex parts that would otherwise be impossible)
3D prints at a number of resolutions and materials
Part design and prototyping for your production.
The following is just a sample of recent projects…
Drewry 88 seat twinset railcar body in 1:64
My customer was unhappy with existing options for the Drewry body and commissioned a replacement.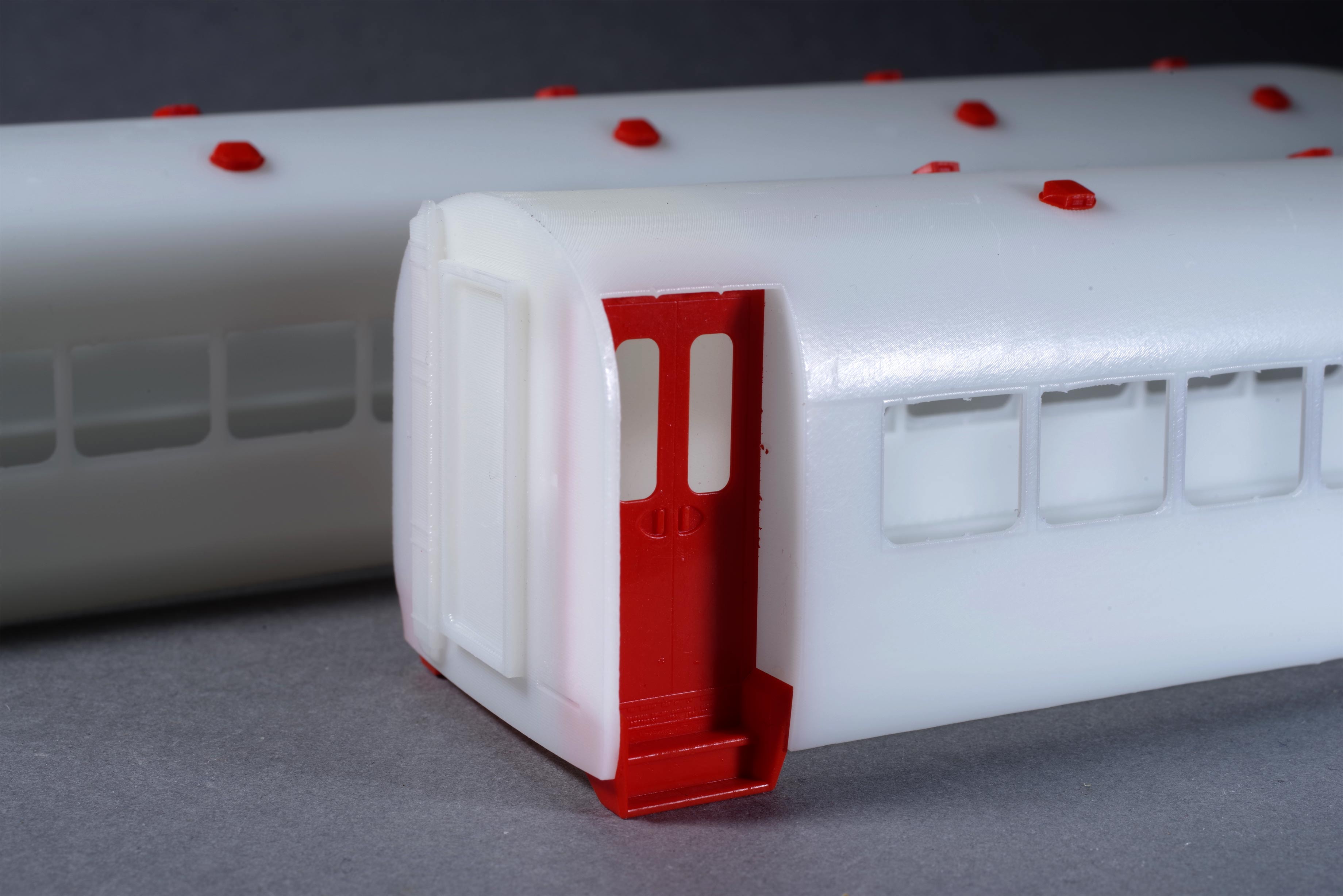 88 seater railcar - luggage door
88 seater railcar - double doors
88 seater railcar footstep plates
The body was modelled in 3D and printed out on a 3rd party large format SLA printer at 100 micron layers.  Detail parts (orange) were printed in house at much higher resolution.  The images were taken with parts straight from the printer without cleanup.  In these views of the prototype model the parts are just push-fitted in place with no adhesive. Still to come are etched window frames and a few detail castings. The main body parts will need some clean up before use, but this will be quite straightforward without the detail parts to get in the way.  Assembly of the basic model will be very quick and easy.
This project highlights the value of appropriate techniques used to produce a very credible reproduction of a difficult prototype.
Rock wagon axleboxes
These castings were originally produced in 1:64 to help the late Robin Knight model the rather characteristic rockwagons used in various construction projects around New Zealand. Subsequently also produced in 9mm scale for others with eclectic tastes.
HO Horse trough
George and Annis Binns were Australian philanthropists who supplied iconic cast concrete horse troughs throughout Australia and elsewhere.  My customer supplied Architectural CAD drawings as a basis for 3D modelling and producing the troughs in resin.  The plaque recording the Binns' philanthropy is just legible in the right light. The horse is a version of our 1:64 product scaled to HO.
X class drivers 1:64
My customer, building X class locomotives for which no kits or major parts exist, needed drivers.  CAD models were prepared from the supplied NZR drawings, printed in castable resin and then cast in bronze.
1:50 Napoleonic battle standard
These battle standards represented the honour of the regiment and featured prominent and heavy embroidery with various Napoleonic devices as well as the campaigns for which they had been recognised.  This was modelled from photographs of the real thing converted to grey scale and used to emboss the design onto the model, which was then subjected to a gravity simulation to produce the drape.  The flag is approximately 26mm square and  is completely legible. My military modeller customer will use this in an appropriately dramatic diorama.
GWR finials
These GWR ball and spike finials were done as a proof of concept.  The hollow slotted ball is generally very difficult to produce.  With digital methods it is possible to produce very accurate scale finials cost-effectively.  These could be produced in cast brass, by printing in a castable resin and putting through an investment casting process. The ability to produce parts that are not mouldable is a major advantage of the print/cast technique.
1:64 scale gig
The gig, now a kit in our range started as a request from Mark Andrews to print a supplied CAD file.  That file, with permission, was subsequently reworked into the version illustrated here.
Roof tiles in 1:64
My customer was sick of corrugated iron roofs and wanted some variety.  Concrete tiles were a very common alternative roofing medium, but much more difficult to model by traditional means. Based on photos and measurements of the real thing I was able to quickly model a sheet of tiles.  This was 3D printed for use as a pattern for urethane casting. The image is a render of the 3D model.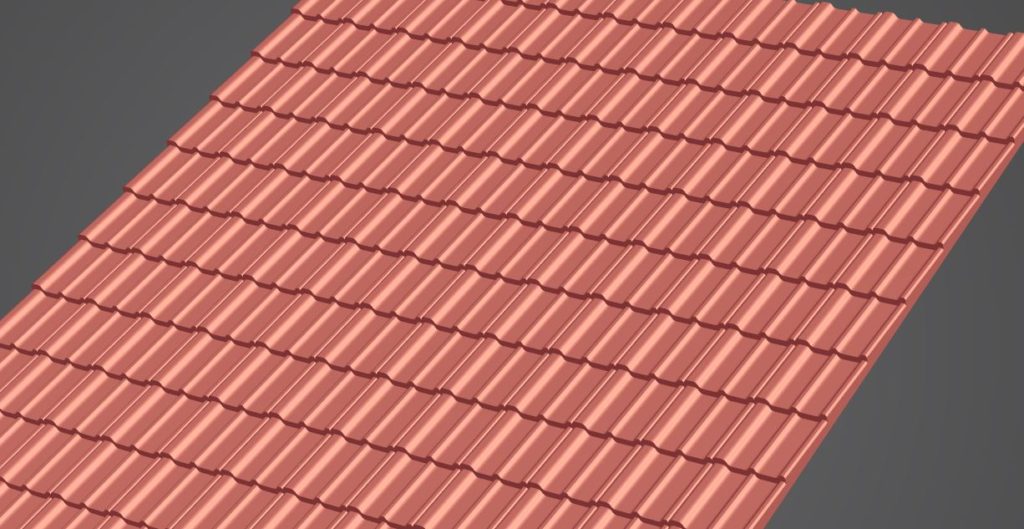 Clydesdale team in 1:64
My customer had a scene in mind for his layout and needed a team of Clydesdale draught horses that were not available. The team of 9 consists of 4 unique models, 1 duplicate and 4 mirror images.  After painting it will be very hard to tell that there are not 9 unique animals.  In the digital modelling many components were able to be reused and recycled meaning that the task was not as time-consuming as might be supposed at first glance (though hardly quick).  Based on photos of period teams.
1:24 Landrover parts
My customer was modelling LRDG Landrovers and required fine details to finish them off.  Etched in 0.1mm stainless steel.
WAGR  'AG' passenger bogies
This bogie was modelled from excellent prototype drawings supported with photos.  Supplied to my customer as a CAD file for printing into resin locally in Australia. This example printed in house in 1:64.
OO9 couplers
My customer wanted something a bit more realistic than the toy train couplers generally fitted to OO9 stock. Drawings of the couplers fitted to the Lynton & Barnstaple Baldwin replica locomotive 'Lyn' were supplied courtesy of the Ffestiniog railway. These were 3D modelled as a sprue of 6 couplers for printing in castable resin before casting in brass.  Even the tommy bar on the slack adjuster (not obvious in this view) has resolved.  Also modelled was a 3D printed draughtbox to conveniently fit the couplers to the headstock cutout in commercial models.
Drive Chain
My customers, wanting to model industrial subjects, needed cosmetic drive chain in various sizes.  From supplied CAD files chains, ranging in pitch from 1-2.1mm, were printed in castable resin and then cast in brass. The chain is soft enough to be formed into shape around sprockets and to introduce realistic droop.
Let us help
If you have a project we can help with, please get in touch.