The last vehicular distraction was self-inflicted, but this one came by email from Mark Andrews asking if a gig kit was a possibility.
The answer to which is absolutely, and here are the first images.  The original gig (see here: https://nzfinescale.com/cart-before-the-horse/ ) was drawn by Mark based on a gig in  the Fielding museum. That drawing was a test piece lacking in some detail and, as I don't get to Fielding often, this gig is basically all new based on one at Ferrymead.  Of course the deep button upholstery provided a little extra challenge.  Gigs like this were a pretty common form of transport up until about WW2.  This one would make a classy addition to any station forecourt.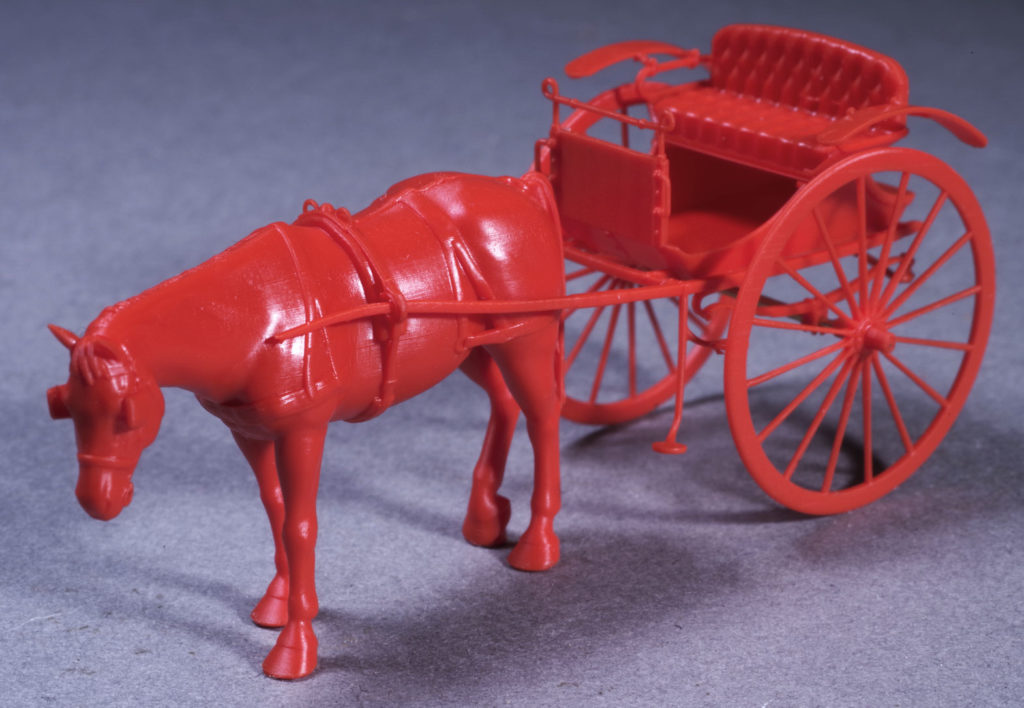 Building the model from the kit parts was pretty quick and easy.  The axles are 0.6mm wire fitted into a 0.8mm tube cross shaft.  This means setting up and fitting the wheels is simple and strong.  Even though the resin parts are fine they seem plenty strong enough – but this is always going to be a feature model, not something to knock around.   The seat (and guards) are a separate piece that is CA glued to the body (in the prototype the seat position is adjustable to balance the load over the axle).  The body plus seat can then be CA-ed onto the chassis.  After fitting the wheels, the shafts can then the fed through the tugs on the saddle to attach to the horse – et voilà.
The horse is new too.  A somewhat heavier and broader mare compared to the earlier young stallion – which can still be harnessed to the gig if preferred.  The mare has blinkers and a reworked collar too.  All horses will be available in standard and mirrored versions to allow a little variety.
The model is very close to scale.  Certainly the overall dimensions are correct as are the wheels including spokes.  Some of the ironwork is a little beefier than the prototype but not by much.  I have managed to model the typical perforations in the mounting steps as well as the mounting handles and guides for the reins.
Still to work out and produce are the traces, singletree and breaching straps (the tack that actually connects the horse to the gig and transfers the load).
The gig will be priced at $70 and the horses at $10 each. Pre-order before June 2018 and I'll supply one horse for free with each gig sold.