When a bunch of bits arrives in the  mail there's always the choice of what to work on first.  In this case it was the Q hoppers, but once they were out of the way it was the turn of the La-2 and the various wooden Ls (L1/L2).  As readers on the blog will know, hopper and open wagons have been a bit of saga with previous kits and dead ends on the journey.  This latest iteration is the culmination of my ongoing search for high fidelity, good performance and ease (speed) of build.
Test builds for the latest kit releases.
A wee while ago know, I polished up the crystal ball to determine what I'd like the future of NZR kits to look like.  I came up with:
Kits need to be easy to build and relatively quick. I have nothing against challenging builds per se, but if everything is challenging it will take several lifetimes to build a layout. So wagons need to be easier.
One piece bodies are a huge step in the 'easy' dept. It doesn't come any faster, and with detail inside and out what is not to love?
Metal down low.  All plastic wagons do not work very well and some mass is needed – preferably low down.  Fold up etches and castings that fit without fettling make life easy.  I can generally contrive a solid metal floor which gives useful heft.
Suspension. Wagons with suspension stay on the track, are quiet, and their motion is realistic.  The latest version is easy to assemble and works well, but you can build it rigid if you wish.
Underframe detail. I like it – if you don't there is a 1 piece simplified brake linkage part supplied. If that is too much trouble, then leaving it off is an option – many kits don't supply these parts at all anyway.
How did I go against these goals? Well I think I nailed the high fidelity.  On top of that the one piece digital body means that it is relatively easy to do variants.  This is important as variation contibutes to realism. – The wooden L will come in at least six guises. More are possible, but perhaps not commercially practical. The basic kit build including working suspension and brake gear is a relaxing day with little frustration.  A bit of compromise and they could be done faster, but that is a build speed I can live with personally.
The 4 plank L1 – the South Island variant with external diagonal strapping.
L1 was an 8′ 6″ wheelbase wagon with 4 plank high sides.  One of the earliest and smallest NZR opens they were built prior to 1900 but lasted in traffic for a very long time.  They didn't change all that much, but in later life end stanchions were not tapered and the loop style handgrab was fitted.  A version of the kit will be issued with these features. The kit will also be offered with the typical internal diagonal strapping or the external variant found on some South Island vehicles.  L2 was essentially the same as L1 but with an extra plank on sides and ends to increase capacity.
An elevated shot of the L1 showing the floor. There is an etched subfloor as the foundation for the underframe, with 0.5mm of solid brass on top of that.  The visible 'floor' inside the wagon is also etched brass.  The weight of this composite is a significant, but not excessive, and contributes to good running.  I still need to fit the hoses and gladhands.
The La-2.  Not very exciting maybe, but that's the point I guess.  The system was full of these things.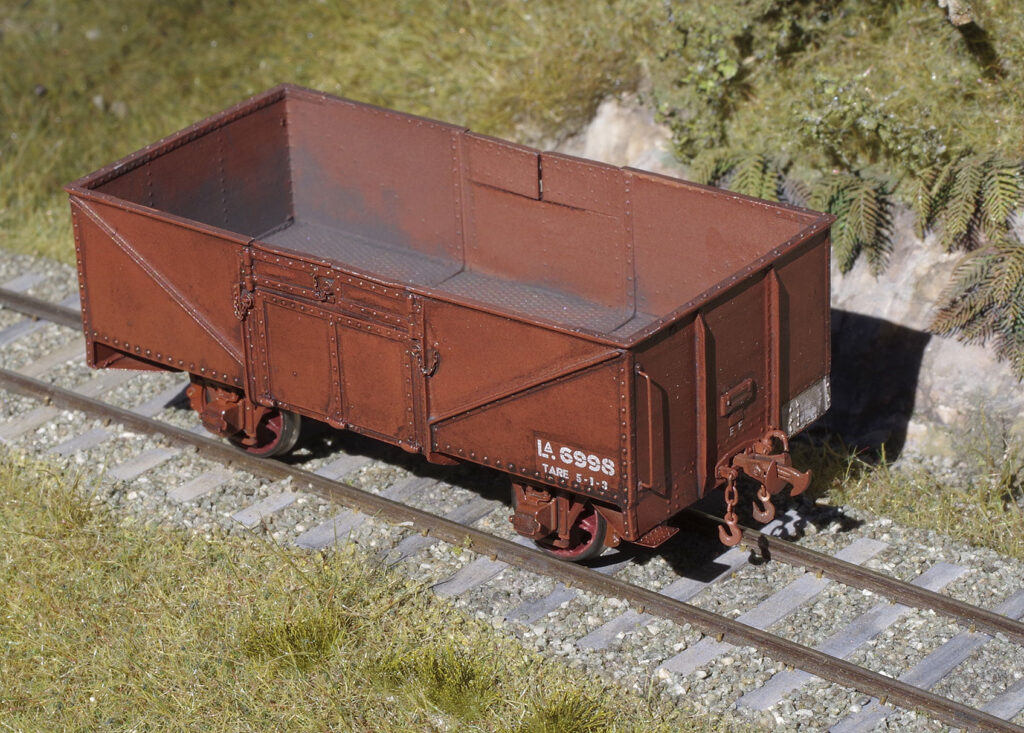 An elevated view of the La-2 to show off the interior.  Things to note are the 'Admiralty pattern' chequerplate floor, thin section sides and distressed top doors. Fine details like the handgrab tails are part of the body print (the grab itself is 0.3mm wire)
Both kits are broadly similar to assemble.  The slider below shows La-2 construction using photos taken from the instructions.
The kits are now ready to go.  I have small stocks and production runs will be ordered very shortly.  Expect to see the kits in the Emporium over the next couple of days with special pre-release pricing.  Order now for later delivery when stock arrives and save.
Note: stock shown here is fitted with scale wheels.  Kits will be supplied with North Yard RP25-110 wheels (The usual 1:64 scale wheel).